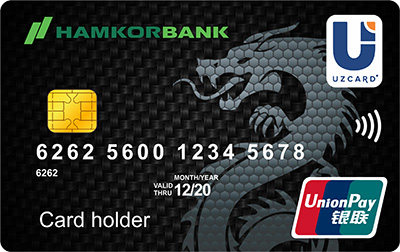 Uzcard UnionPay Co-badged Debit Card
Debit Cards in National Currency
Convinient way of payment for goods and services accepted nationwide
Free yourself from carrying a piles of money
Safety ans security of your funds
Submit an application for issuing Uzcard UnionPay Co-badged Debit Card Card within any branch or office nationwide
Sign an Uzcard cardholder agreement
Copy of your passport
In case of loss of the card you need the bank's help to block it. This can be done in one of the following ways:
Contact the bank office where your card was issued.An identity document will be required to process your enquiry.
Contact the bank's call center at 1256 or 0 800 1 200 200 (from abroad). To block the card through the bank's call center, you will need to provide the operator the "code word" that was specified in the debit card registration agreement.
Using the Hamkor Mobile app only if the lost or stolen card was registered in the Hamkor Mobile application. You can block your card in the "My Cards" section.
In order to reissue or unlock the card, it is necessary to contact the bank office where the debit card was issued with an identity document.